Description
UgenixPRO® Apple Cider Vinegar Gummies have all the benefits of apple cider vinegar packed into one delicious gummy:
– Helps control blood sugar
– Bolsters weight loss & helps control appetite
– Supports good cholesterol levels
– Improves skin health
Fitness gurus and health professionals across the globe are raving about apple cider vinegar as they discover how beneficial it is for quickly dropping unwanted pounds. Apple cider vinegar gummies are a must-have for all medicine cabinets with their unmatched versatility like aiding in the cleansing of the lymph system, keeping blood sugar in check, and even helping to clear skin from acne and scarring with the help of skin-loving acid compounds.
Apple cider vinegar has a little something for everyone as a digestive aid that also benefits heart health. Plus, this formula also has a little extra with the addition of folate and vitamin B 12.
Ingredients: Folate, Vitamin B12 (as Cyanocobalamin), Apple Cider Vinegar Powder, Pomegranate Juice Powder, Beet Juice Powder, Sodium (as Sodium Citrate), Sugar.
Flavor: Apple
Manufacturer Country: USA
Amount: 60 gummies
Gross Weight: 0.56lb (254g)
Suggested Use: As a dietary supplement, take two (2) Gummies once a day.
Beetroot For Mental Health
A study suggests that dietary nitrate may be useful in improving regional brain perfusion in older adults in critical brain areas known to be involved in executive functioning.
Pomegranate And Oxidative Stress
A meta-analysis provides evidence that pomegranate can effectively improve some oxidative stress factors.
Pomegranate And Blood Pressure
The present meta-analysis suggests consistent benefits of pomegranate juice consumption on blood pressure. This evidence suggests it may be prudent to include this fruit juice in a heart-healthy diet.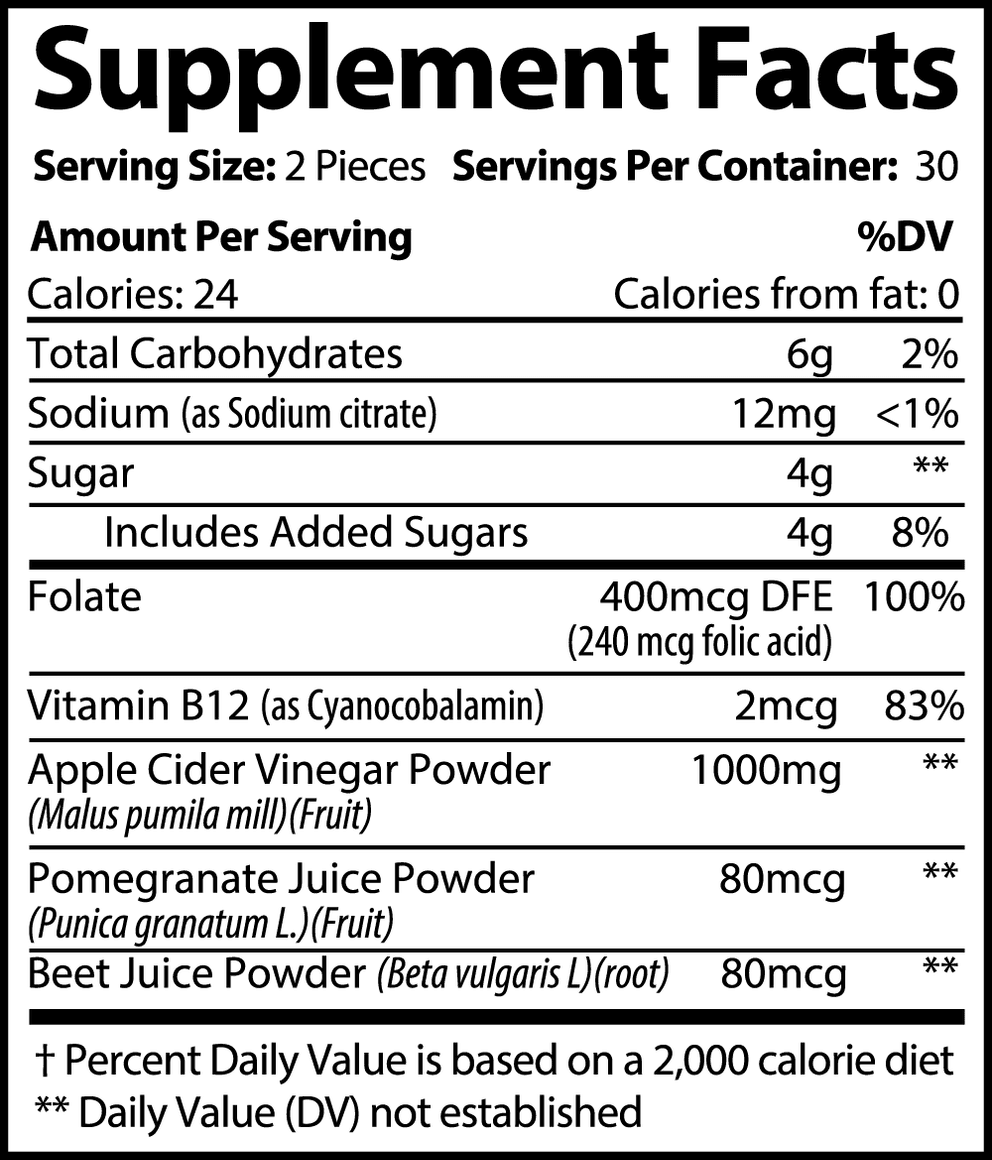 Caution: Do not exceed recommended dose. Pregnant or nursing mothers, children under the age of 18, and individuals with a known medical condition should consult a physician before using this or any dietary supplement.
Warning: Keep out of reach of children. Do not use if the safety seal is damaged or missing. Store in a cool, dry place.
The Food and Drug Administration has not evaluated these statements. This product is not intended to diagnose, treat, cure, or prevent any disease.