Description
Cordyceps mushrooms are parasitic fungi that are exceedingly scarce in nature, making them difficult to obtain. Currently, cordyceps vendors obtain cordyceps cultivated on a vegan substrate, such as grain, rendering them safe for eating while retaining all of their benefits.
Cordyceps may enhance immunity by stimulating immune system cells and particular molecules and promoting an increase in red blood cells, which transport oxygen and carbon dioxide to and from tissues.
Ingredients: see Supplement Facts.
Manufacturer Country: USA
Product Amount: 60 vegan capsules
Bruto Weight: 0.2lb (90g)
Suggested Use: As a dietary supplement, adults take two (2) capsules daily or as directed by a healthcare professional. Can be taken with food or on an empty stomach. Store in a cool, dry place and away from direct light.
Cordyceps for Male Reproduction
Cordyceps Sinensis has various biological and pharmacological functions, and it has been claimed as a tonic supplement for sexual and reproductive dysfunctions for a long time in oriental society.
Cordyceps for Pharmacological Functions
An article gives a general idea of the latest developments in C. sinensis research, with regard to the active chemical components, the pharmacological effects and the research and development of products in recent years.
Cordyceps for Antitumor Activity
Various secondary metabolites from Cordyceps fungi were reported to have antitumor activities, and antitumor mechanism of those bioactive compounds possesses multi-target, multi-level and multi-pathway characteristics.
Cordyceps for Anti-inflammatory Activities
Studies show that Cordyceps and its active principles possess a wide range of pharmacological actions, such as anti-inflammatory, antioxidant, antitumor, antihyperglycaemic, antiapoptosis, immunomodulatory, nephroprotective, and hepatoprotective.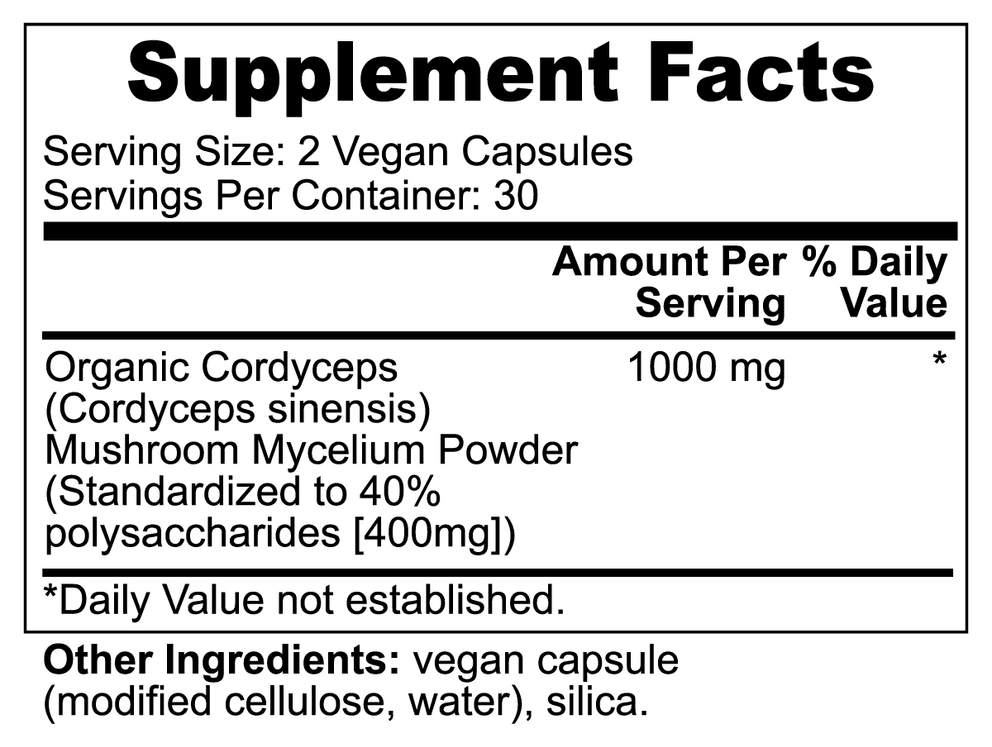 Warning: Keep out of reach of children. Do not use if the safety seal is damaged or missing. Store in a cool, dry place.
The Food and Drug Administration has not evaluated these statements. This product is not intended to diagnose, treat, cure or prevent any disease.