Description
UgenixPRO® Max Detox is a proprietary blend of popular detoxification herbs like psyllium husk, acai berry, chlorella, and papaya:
Works to detoxify toxins, parasites & heavy metals
Supports healthy digestion
Improves colon health
Nourishes the liver
Detoxification is no longer only enjoyed by those who can afford a spa day. In fact, people are becoming increasingly aware that detoxing your body is an integral part of maintaining a healthy and disease-free lifestyle.  Max Detox helps remove harmful toxins while supporting the liver, an essential part of the body's natural detoxification processes.
Cleansing the body of built-up toxins, heavy metals, and parasites can positively impact immunological function, digestion, and skin health, which is why so many people are looking for ways to do it naturally in the comfort of their homes.
Ingredients: Proprietary Blend (Psyllium Powder, Acai Berry Extract, Inulin, Slippery Elm Bark, Aloe Ferox Powder Alion 18%, Chlorella, Black Walnut Hulls Powder, Ginger Root, Hyssop Leaf, Papaya Fruit Powder, Lycopene 5%, Cellulose (Vegetable Capsule), Magnesium Stearate.
Contains: Tree Nuts (Black Walnut Hull).
Manufacturer Country: USA
Amount: 60 caps
Gross Weight: 0.25lb (113g)
Suggested Use: As a dietary supplement, take two (2) capsules once a day. For best results, take one (1) capsule during the day and one (1) capsule in the evening. Repeat the process daily. Do not exceed two capsules per day.
Acai berry for healing
Study results indicated that acai berry extract might have potential as a wound healing agent.
Acai Health Effects
The acai extracts have a range of polyphenolic components with antioxidant properties. Some of those present in greater quantity are orientin, isoorientin, vanillic acid, and anthocyanins cyanidin-3-glucoside and cyanidin-3-rutinoside.
Chlorella And Detox
Five case studies showed that reduction in toxic heavy metals (74% average decrease) was achieved without side effects.
Ginger for Energy Metabolism
Ginger has positive effects on weight control, obesity prevention, and energy metabolism.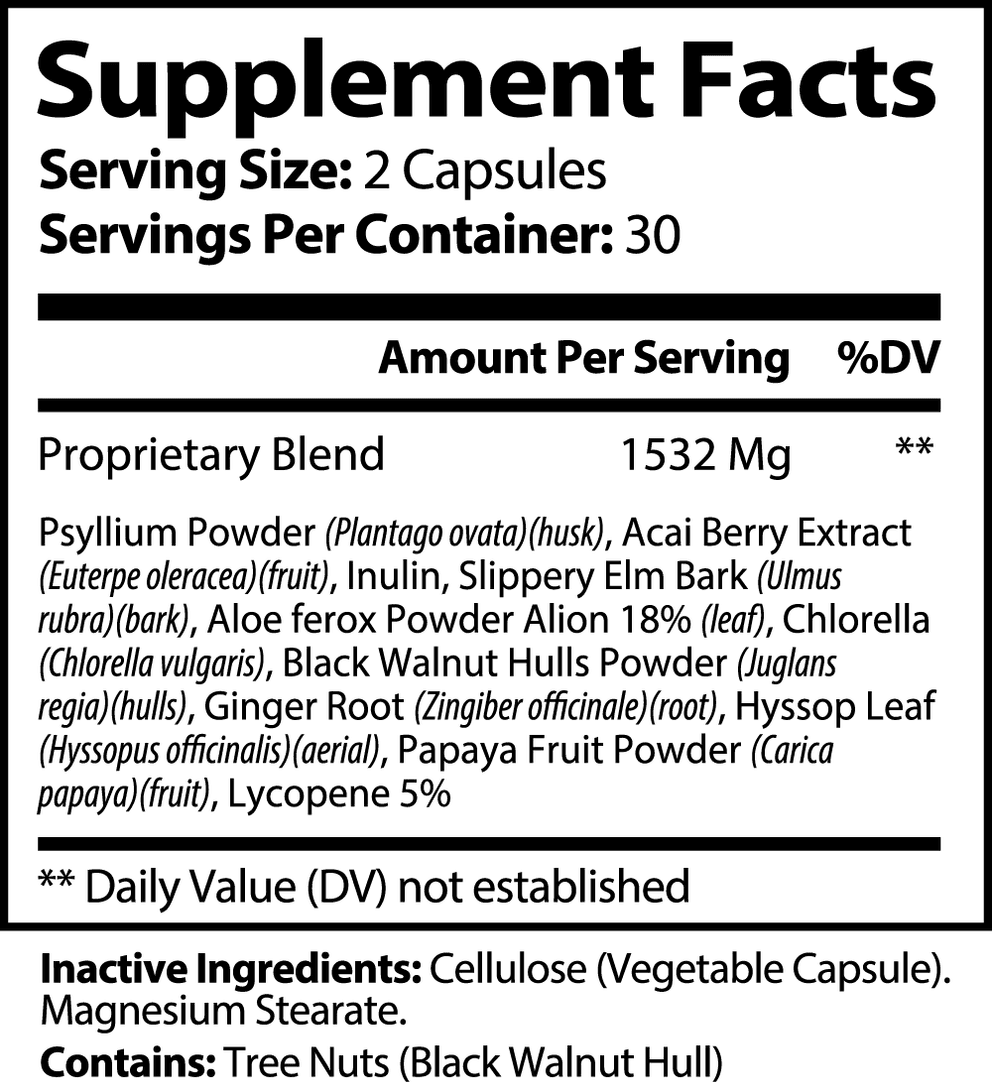 Benefits of Max Detox (Acai detox)
A proprietary blend of detoxification herbs
Detox
Supports enzymatic activity, liver function and elimination.
Skin
Eliminates toxins through the colon, so they don't show up as acne on the skin.
Immunity
Can help improve immunological responses and clear free radicals.
Weight
Readies the body for weight loss and may boost weight loss results by controlling hunger and increasing energy.
Caution: Do not exceed recommended dose. Pregnant or nursing mothers, children under the age of 18, and individuals with a known medical condition should consult a physician before using this or any dietary supplement.
Warning: Keep out of reach of children. Do not use if the safety seal is damaged or missing. Store in a cool, dry place.
The Food and Drug Administration has not evaluated these statements. This product is not intended to diagnose, treat, cure, or prevent any disease.