Description
UgenixPRO Moringa Pure is made from Moringa Oleifera, a tree that originates from Northern India and has been praised for its health benefits for centuries. It's most famous for its impressive nutritional content with high levels of antioxidants and bioactive plant compounds.
Almost all parts of the tree are used in traditional medicine, where people can expect to get a high dose of protein, Vitamin C, Vitamin B6, Riboflavin, and iron.
In Western countries, where it's renowned for its health effects, Moringa is usually sold in powder form as a supplement.
Ingredients: see Supplement Facts.
Manufacturer Country: USA
Product Amount: 60 caps
Bruto Weight: 0.25lb (113g)
Suggested Use: Take two (2) capsules once a day as a dietary supplement. For best results, take 20-30 min before a meal with an 8oz glass of water or as directed by your healthcare professional.
Moringa and Blood Glucose
In conducted studies, moringa leaves have reduced glycemia without causing any adverse effects. The proposed mechanisms for reducing glycemia include inhibition of α-amylase and α-glucosidase activities, increased glucose uptake in the muscles and liver, inhibition of glucose uptake from the intestine, decreased gluconeogenesis in the liver, and increased insulin secretion and sensitivity.
Moringa Efficacy
Various animal studies have assessed the general safety of moringa extracts and have demonstrated a very high degree of safety.
Moringa for Health
Moringa possesses a wide range of medicinal and therapeutic properties through executing its potent anti-inflammatory activity, inhibiting the activation of NF-κB and PI3K/Akt pathways, mitigating oxidative stress by scavenging free radicals, and enhancing neuroprotective roles. In addition, Moringa can reduce the risk of cancer and modulate blood glucose. Therefore, Moringa provides the potential for the prevention or treatment of a series of chronic diseases.
Moringa and Ageing
Aqueous extract of moringa leaves (MOAE) was administered orally at a 200 mg/kg body weight dosage for 30 days. MOAE treatment showed a significant reduction in lipid peroxidation and lipofuscin pigmentation and elevated serotonin and antioxidant enzymes in the brains of treated groups of aged rats. The present result suggests the protective efficacy of moringa against age-related oxidative stress in the brain.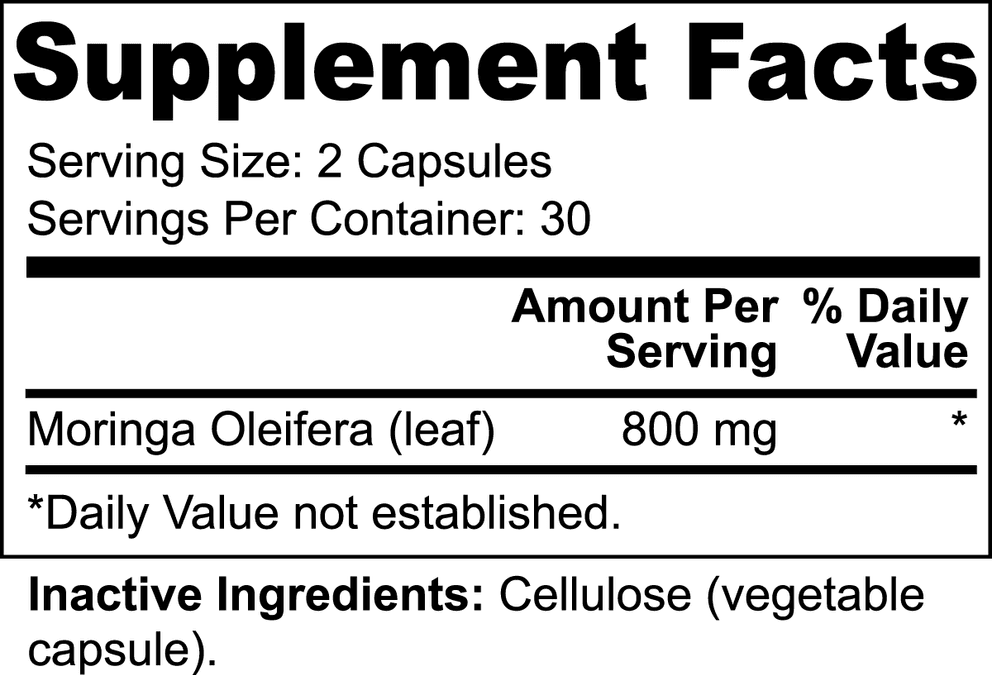 Caution: Do not exceed recommended dose. Pregnant or nursing mothers, children under the age of 18, and individuals with a known medical condition should consult a physician before using this or any dietary supplement.
Warning: Keep out of reach of children. Do not use if the safety seal is damaged or missing. Store in a cool, dry place.
The Food and Drug Administration has not evaluated these statements. This product is not intended to diagnose, treat, cure or prevent any disease.