Description
The Reishi mushroom has been used for hundreds of years in Eastern medicine. This fungus is usually eaten fresh, in powder form, or in liquid extracts.
Within Reishi mushrooms, there are numerous beneficial molecules such as peptidoglycans, triterpenoids, and polysaccharides. Through these molecules, Reishi is known to strengthen the immune system and reduce symptoms of chronic stress. As a result, Reishi is the top-selling adaptogenic mushroom in the world.
Ingredients: see Supplement facts.
Manufacturer Country: USA
Product Amount: 60 vegan capsules
Bruto Weight: 0.2lb (90g)
Suggested Use: As a dietary supplement, adults take two (2) capsules daily or as directed by a healthcare professional. Can be taken with food or on an empty stomach.
Reishi for Anti-Cancer Activity
Evidence from in vitro and in vivo studies has demonstrated that reishi possesses potential anticancer activity through immunomodulatory, anti-proliferative, pro-apoptotic, anti-metastatic, and anti-angiogenic effects.
Reishi for Sleep
Study results showed that reishi promotes sleep through mice's gut microbiota-dependent and serotonin-associated pathways.
Reishi for Cardiovascular Health
Some studies found that G. lucidum prevented from heart damage in a variety of disease models, such as streptozotocin (STZ)-induced diabetic, high-fat-diet-induced diabetic, isoprenaline (ISO)-induced myocardial hypertrophy, acute ethanol-induced heart toxicity, and transverse aortic constriction (TAC) models.
Reishi as Functional Foods
A study provides an extensive overview of the nutraceutical value of Ganoderma lucidum and the development of commercial functional food.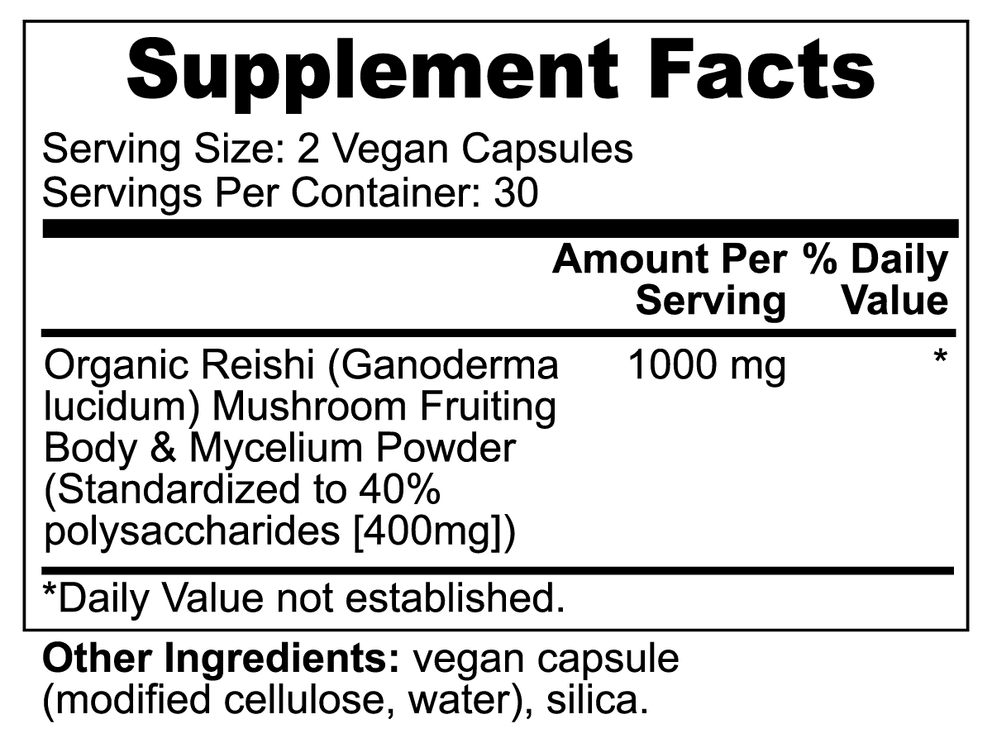 Warning: Keep out of reach of children. Do not use if the safety seal is damaged or missing. Store in a cool, dry place.
The Food and Drug Administration has not evaluated these statements. This product is not intended to diagnose, treat, cure or prevent any disease.