Description
UgenixPRO® Vitamin C Gummies are an effective way to get the necessary daily Vitamin C for your body.
Immune booster
Antioxidant
Cardiovascular health
Respiratory health
UgenixPRO® Vitamin C Gummies are a healthy, on-the-go snack for the whole family. They provide you with the daily Vitamin C that your body needs to fight off free radicals, lower blood pressure, lower the risk of heart disease and boost the immune system against infection overall.
Ingredients: Vitamin C (as Ascorbic Acid), Glucose Syrup, Sugar, Glucose, Apple Juice (from concentrate), Pectin, Citric Acid, Sodium Citrate, Natural Strawberry flavor, Radish Red.
Manufacturer Country: USA
Product Amount: 60 gummies
Bruto Weight: 0.37lb (170g)
Suggested Use: Take two (2) capsules once a day as a dietary supplement.
Vitamin C and Immunity
Vitamin C contributes to immune defense by supporting both innate and adaptive immune systems' cellular functions.
Vitamin C for Respiratory Health
Upper respiratory tract infection (URTI) is a common infection in children, generally caused by viral respiratory infection. Vitamin C is currently proposed as prophylaxis for URTI.
Vitamin C for Common Cold
Extra doses of vitamin C could benefit some patients who contract the common cold despite taking daily vitamin C supplements.
Vitamin C and Intensive Care
A study found statistically highly significant evidence that vitamin C can shorten the length of ICU stay.
Vitamin C and Hypertension
Vitamin C supplementation may result in a significant reduction of blood pressure in patients with essential hypertension.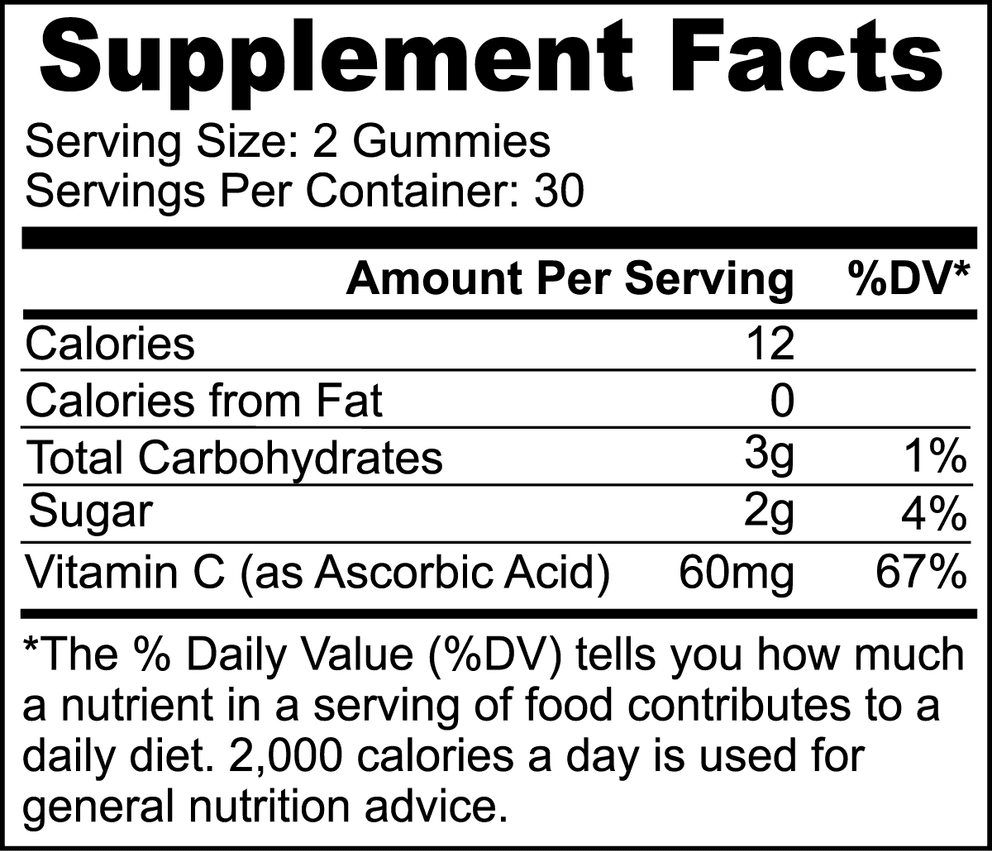 Benefits of Vitamin C Gummies
Immune-boosting gummies
Prevents iron deficiency
Vitamin C increases the absorption of iron, especially from vegan sources.
Boosts immune system
Vitamin C is a potent antioxidant that prevents cell oxidation and protects against disease.
Lowers blood pressure
It's been observed that vitamin C supplements reduce blood pressure in both healthy and hypertensive adults.
Lowers risk of heart disease
Vitamin C lowers heart risk factors such as LDL (bad) cholesterol an
Caution: Do not exceed recommended dose. Pregnant or nursing mothers, children under the age of 18, and individuals with a known medical condition should consult a physician before using this or any dietary supplement.
Warning: Keep out of reach of children. Do not use if the safety seal is damaged or missing. Store in a cool, dry place.
The Food and Drug Administration has not evaluated these statements. This product is not intended to diagnose, treat, cure or prevent any disease.